It has been a very busy couple of weeks leading to the release of VarSome 9.4. As you will see from the release notes, there are a lot of updates to explore. We are also very excited by the implementation of the new User Messaging functionality. This is the first step in a series of features we are introducing to help the VarSome Community work together. Thank you as always for the continued feedback and support - it is tremendously helpful!

VarSome 9.4

ACMG Classification

Improved support for hg38
PhyloP: we have switched conservation scores from GERP to PhyloP which is fully available for hg38 and brings automated classifications inline for both hg19 and hg38 with no loss of accuracy.
gnomAD genomes coverage: we now leverage the coverage data from gnomAD, which is available for the genomes dataset only, however this is not available for the older exomes dataset.
Improved explanations
The explanations for some of the rules have been tweaked to be more legible & succinct.

Display
We now provide a more streamlined view of the ACMG classification which is particularly helpful in the VarSome Clinical platform:


Simply hovering over the rule 'pill' will display the definition and explanation for that rule:

The rules summary table can be expanded, similar to the previous implementation, and this setting is saved to your user configuration:

A new toggle, 'Show failed criteria', will display the explanations for all the automated criteria that did not trigger:
VarSome

Gene Publications
We have now leveraged our AI publication scanning to automatically display publications that refer to the gene considered. These are highlighted as 'VarSome AI' and will typically include recent publications that are not yet cited by other clinical sources:

New Conservation Scores
Inline with the improved support for hg38, the PhastCons and PhyloP conservation scores are now displayed:

User Messaging
We have enabled the facility for user communication. If the user has a message, and envelope is displayed next to their username. A red dot highlights any unread messages and a blue dot for which specific message is unread.



This feature will also be used to communicate release notes and other information from the VarSome team:

VarSome Billing
A Statement screen has been created, allowing billing account managers the facility to generate statements which are then e-mailed:




VarSome Clinical

Cancer Databases
Cancer databases will no longer be included when annotating germline samples. We have also provided an option to disable JAX CKB in somatic samples at the user's discretion.

Launch Analysis
We have introduced a new functionality in the main Launch Analysis pages for samples from FASTQ files (Germline and Somatic). Uploaded FASTQ files are now automatically recognized in pairs (or groups) under the same filename prefix and are split in single samples to be available for batch analyses:

VarSome API
When querying variants using the batch (POST) request on the VarSome API, a new property 'original_variant' will be included in the results. This can be used to match back the results to the original data input. You may need to modify your code as previously a null entry would have been returned for invalid variants.

For example: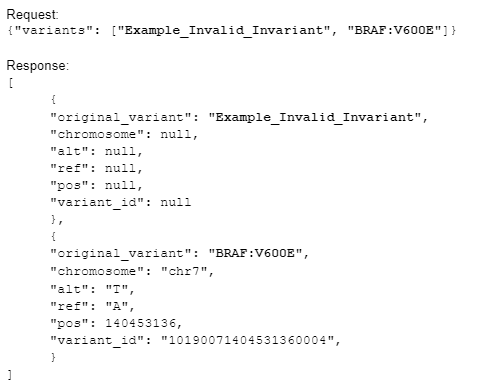 The response is guaranteed to contain the same number of entries as the input, and in exactly the same order.

We have also documented guidelines to improve performance and optimise the amount of data returned by the API. Please ask support@varsome.com for details.


Further Information and Support

Not already a VarSome Premium or VarSome Clinical user? Get in touch and ask for a free trial.
As ever we hope you find these changes & improvements helpful, we'd love to hear any suggestions you may have, support is available as usual from support@varsome.com
- The VarSome Team